Industrial Angle Grinder Repair

Up
This page details my work on repairing a 7" industrial angle grinder
. I got it for $10 at an auction and it spent a while in my pile of broken tools awaiting repair. Now that I had some time to waste, and did not want to throw it away, I decided to give it a look.
It obviously has seen a long and tough life and was at some point dropped, had a handle broken and repaired by semi decent welding, and also lost a switch.
When powered up, it produced a gigantic spark and died.
I opened it up. To open it up, I had to make a slit in one of the screws that had its philips end stripped out, and remove it with a flat screwdriver.
I had a similar experience before with a 450 RPM drill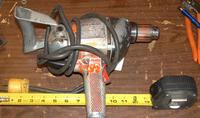 . It's the carbon dust inside that shorts something brush-related. Without thinking too much, just as I did with the drill, I blew out the dust inside with compressed air. It worked.

I found a suitable power cord in my junk pile. I drilled and tapped a hole in the handle using A 1/4" drill and a 5/16"-18 NC tap, and used a screw to hold the cable.

I inserted the cable and connected it to the drill. Please note that this setup is missing the necessary power switch, so this drill will have to be run from a foot switch or some such, until I identify what it is.

Here, pictures tell us the story.


(Click on the thumbnail images to enlarge)